TRAVEL AGENTS GET 50% DISCOUNTS AT HOTELS AND RESORTS THE WORLD OVER.

As A Thrifty Travel Club Gold Card Holder, You Can Travel Like A Travel Agent & Cut Your Travel Costs In Half. STAY AT THE WORLD'S BEST HOTELS AND GET UP TO 50% OFF IN THE USA, CANADA, MEXICO, HAWAII, JAMAICA, EUROPE, THE CARIBBEAN & WORLDWIDE.
THE GOLD LIFETIME CASH SAVINGS CARD!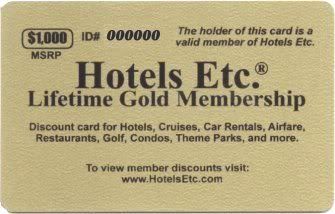 To Help You & Your Family Beat This Recession
Save the membership cost on your first use and save thousands of dollars more over your lifetime, whenever you travel with family or friends. YOU MAY ALSO LET YOUR FAMILY AND FRIENDS USE YOUR GOLD LIFETIME SAVINGS CARD TO SAVE MONEY WHEN THEY TRAVEL.
OUR GOLD LIFETIME SAVINGS CARD MEMBERS GET:
UP TO 50% OR MORE OFF AT THOUSANDS OF HOTELS: (Clarion, Doubletree, Sheraton, Hilton, Westin, Ramada, Holiday Inns, Rodeway Inns, Comfort Inns, Comfort Suites, Quality Inns, Main Stay, Sleep Inn, Econo Lodge, Etc.)

ABSOLUTELY NO RESTRICTIONS: Stay At Hotels & Resorts On Holidays, Weekends & Weekdays At Up To 50% Off Rack Rates

LIFETIME MEMBERSHIP: No expiration Dates - Use Over & Over Again For Many Years.

UNLIMITED USAGE: You Save Up To 50% From Your Very First Night For As Many Nights & Visits As You Wish.

NO ADVANCE RESERVATIONS REQUIRED: Last Minute, Spur Of The Moment Travel Is OK & You Still Get Up To 50% Off.

NO RENEWAL FEES OR ANNUAL FEES REQUIRED: Your One Time Payment Covers Your Total Lifetime Cost.

NO BLACKOUT DATES: Valid 365 Days A Year.

WORLDWIDE USE: Valid In More Than 1000 Cities & Over 150 Countries.

YOUR MEMBERSHIP IS TRANSFERABLE: Family Members & Friends Can Use It To Save.

CASH BACK AT THOUSANDS MORE HOTELS:

SAVE CASH FOR A LIFETIME AT OVER 20,000 CAR RENTAL LOCATIONS:

In Over 150 Countries

SAVE 60% OFF DINING AT MORE THAN 20,000 RESTAURANTS:

All Across North America.

SAVE UP TO 70% ON MORE THAN 1000 CRUISES

:

Using All Major Cruise Lines.

AND NO REQUIRED TIMESHARE PRESENTATIONS
TO WATCH A 30-MINUTE VIDEO ON YOUR BENEFITS, RATHER THAN READ ABOUT THEM, Click HERE.

You Also Receive These Upfront Bonuses (Hundreds of $$$$$ Value):

A BONUS 3-DAY/2-NIGHT VACATION ($300 Value): You also receive a 3-day/2-Night Bonus Vacation Voucher. This offers you deluxe accommodations at your choice of more than three dozen fabulous resort destinations: Orlando/DisneyWorld, Las Vegas, Maui, Branson, Hilton Head Island, Palm springs, Lake Tahoe, New Orleans, Cabo San Lucas, Cancun & many more. It is our way of saying, "Thanks for your business." Your Vacation Voucher may be used as a personal vacation for yourself or as a WONDERFUL GIFT OF TRAVEL for that special BIRTHDAY, ANNIVERSARY, WEDDING, GRADUATION or a Great Gift Idea for the HOLIDAYS.
Your Bonus 3-Day/2-Night Family Getaway Vacation
CLICK HERE TO SEE OUR 30-MINUTE VIDEO
Updating their list of 50%-Off Hotels has been 1st Priority and they are working constantly to increase the size of the list. - MORE NEW HOTELS ARE ADDED DAILY!

Occasionally, a new hotel employee may not be aware of the our 50% Off Agreement. If this occurs, tell the reservation clerk the name of the person listed with the hotel's telephone number in our Directory. This is the hotel management person who signed an agreement with HotelsEtc to offer a 50% discount to club members. We have had contracts with every hotel in our paper Directory and on our website. However, since the Hotel directories were printed only once a year, all the hotels listed in them may not be current, so it is always best to check online.
Hotels Etc. members now receive discounts on AIRPORT PARKING WORLDWIDE. This new discount is now available in the Member Only section.
Hotels Etc. members can now receive up to 70% OFF Golf Nationwide. We offer our members an exceptionally easy way to access golf discounts and make instant golf reservations with our live interactive tee time reservation data base. Simply browse golf courses by zip code, see the live discounts and reserve your Tee Time from our website. The electronic database is updated every 60 seconds with golf course discounts across the country. With thousands of golf courses nationwide, this makes Hotels Etc. the largest discount golf provider in the country.
Hotels Etc. Members Now Have Access To Theme Park & Dinner Show Ticket Discounts in Orlando and elsewhere. TICKET MOMMA - 4497 W Hwy 192 | Kissimmee, FL 34746 (866)996-7508 | (407)396-7508. Browse our site and enjoy the great rates on Disney Tickets. We are contracted, licensed and bonded to offer these tickets at outrageous savings! Don't wait in line to buy your tickets; take our tickets straight to the entrance and spend that extra time IN the parks, rather than standing in line...

Here's our list:
Arabian Nights

Blizzard Beach

Boggy Creek Airboats

Busch Gardens

Cirque Du Soleil

CityWalk

Cypress Gardens

Disney Quest

Disney World Tickets

Dixie Stampede

Gatorland

Holy Land

Islands of Adventure

Kennedy Space Ctr

Medieval Times

Pirates Dinner

Pleasure Island

Polynesian Luau

Ripley's Museum

SeaWorld Orlando

Silver Springs

Sleuths Mystery

Titanic Exhibit

Tony n' Tina's Wedding

Typhoon Lagoon

Universal Studios

Wet N Wild

Wonder Works
Many more discounts on fabulous Theme Parks coming soon.
NEW DISCOUNTS. New Discounts Now Available.
Hotels Etc. announced today the release of new member discounts. We strive daily to add new discounts in which will benefit our members across the world. Please explore the list below to get updated and check out the details on your http://www.hotelsetc.com website.
Enterprise: Members now enjoy a full 50% off the weekend rate at most enterprise locations around the globe. Check our member only section for more information.

Four Points by Sheraton: Hotels Etc. members now enjoy a full 20% off the best star pick rates at Four Points worldwide.

Radisson: Receive best online rate guaranteed or you get 25% off your first night.

Hotel discounts: Hotels Etc. members now get up to 60% off additional hotels. Please search for these in our up To 60% Off Search Portals.

Country Inn: Receive best online rate guaranteed or you get 25% off your first night.

Fox Rent A Car: Hotels Etc. members now enjoy up to 40% off on Hybrid car rental at Fox rent a car.

Up To 60% Off Airport Parking: Hotels Etc. members now enjoy major discounts on airfare parking nationwide. Check the member only section for more information.
We continually add more discounts to benefit Members on a daily basis. Check: www.hotelsetc.com online or email Help@DailySavingsClub.net current updates.
FOR ULTIMATE TRAVEL SAVINGS WE HIGHLY RECOMMEND OUR GOLD LIFETIME SAVINGS CARD: STAY AT THE BEST HOTELS IN THE USA, THE CARIBBEAN, MEXICO, CANADA AND EUROPE & GET UP TO 50% & MORE OFF THEIR PUBLISHED RATES. These Discounts Also Apply to Cruises, Condos, Rental Cars & More. Travel Agents Get 50% Discounts at Hotels And Resorts the World Over. With Our Hotels Etc Gold Lifetime Savings Card You Can Travel Like A Travel Agent & Cut Your Travel Costs In Half. OUR ONE-TIME PRICE: $995.00 (MSRP). YOU CAN LIKELY SAVE THE LIFETIME MEMBERSHIP COST ON YOUR FIRST FEW USES & then save many thousands more over your lifetime, whenever you travel. For Saving Travel Dollars The Lifetime Savings Card Is A Godsend!
IF YOU'RE WONDERING, HOW WE ARE ABLE TO OFFER YOU SUCH INCREDIBLE TRAVEL BARGAINS and EVEN BONUS VACATIONS, HERE'S HOW. We are simply FILLING VACANCIES: selling empty seats on airlines, empty cabins on cruise ships and empty rooms and suites in hotels which usually operate at 60% to 70% occupancy except for peak season. Airlines, cruise ships, hotels and resorts prefer to subsidize a traveler because they earn revenue from the activities in which travelers partake while at their resorts (food, drinks, gambling, etc.). Resorts, hotels, cruise ships, and airlines prefer to make some money and GET A TAX WRITE-OFF, rather than totally lose money on vacant accommodations.
Frequently Asked Questions

IMPORTANT : Occasionally new hotels/new hotel employees may not be familiar with our 50% OFF agreement. If this occurs simply tell the reservationist the name of the person listed to the right of the hotel telephone number in our Directory. This is the hotel management person who signed an agreement with Hotels Etc. to offer a 50% discount to Hotels Etc. members.

Can I use my Membership Card at all Sheratons, Hiltons, Hyatts, Holiday Inns, Doubletree Inns, etc.?
While most major hotel chains are represented, this does not mean that every hotel from each chain is included. All participating hotels, however, are listed in our Worldwide Hotel Directory, which you receive in your Membership Package. Out hotel directory is published only once a year, but our Members also have access to our website where new hotels are added and updated daily.

If I use a hotel chains toll-free number to make my reservation, will they be familiar with our program?
NO, NOT ALWAYS. Some switchboard operators for the hotel chain's Central Reservation System may not be aware of programs which individual hotels or resorts within the chain are participating. Always call the hotel direct and identify yourself as a Hotels Etc. guest when making reservations. Always present your Membership Card at time of check in to receive your discount.

If I stay at a participating hotel on a week end, will I receive 50% off their reduced or special rates?
No. Some Large hotels in major cities offer special reduced week end rates, and special packages which include two nights, theater tickets, dinner, or champagne breakfast. Our Preferred Member discount is based upon their regular rate, not discounted or packaged rates. Some Week End Package rates may be a better bargain.

Can I stay at a participating hotel any time during the year and still get 50% off?
Almost all participating hotels will honor the 50% OFF agreement for your entire stay throughout the year, but some hotels do have periods when they anticipate being fully booked. So be sure to check for availability dates by calling the reservation number listed.

If I require more than one room, will I be entitled to my discount on each room?
Please check with the hotel before signing in. They may have a policy of "one 50% OFF room per cardholder.

Can I use my card more than once during the same trip?
Absolutely. Anytime you travel, you are entitled to 50% OFF at any participating hotel listed in our Members Directory (based upon space availability). It is always wise to call in advance for reservations.

Where can I use my card?
New properties are joining our program on a regular basis, but we currently have thousands of participating hotels, resorts & condominiums primarily throughout the US and Canada , but also in Mexico , the Caribbean & Europe. They include a range of luxury, intermediate and budget properties to suit anyone's preference or pocketbook.

Can other members of my family, or friends use my Membership card?
Yes, your Membership Card & Directory is fully transferable to family and friends making it an even greater value.

How can I get current updates of the new hotels which are added regularly?
Our Members are given a website address which includes all current updates in the "New Additions" category.

How long have we been in business?
Our associate travel agency has been in business since 1963.

Is there an annual fee, or any additional monthly fees during my lifetime?
No, there is only your one time price for our Lifetime Travel For Half Price offer.

These are more vacations than I can handle. What do I do with them all?
Use them as gifts and share them with family, friends, neighbors, co-workers, associates, etc. Our vacation vouchers are fully transferable.
100% MONEY-BACK GUARANTEE!
IF I AM NOT SATISFIED WITH YOUR MEMBERSHIP, CAN I RETURN IT! Yes! Our goal is to make our customers happy! We offer a 30-Day Money-Back Guarantee. If you should decide the membership is not for you, simply return the membership card within 30 days from the date of purchase and we will refund your money.